Welcome Friends! ........................ 01
Meet The Hunters ......................... 02
> Killua ........................................ 03
> Gon ........................................... 04
> Kurapica ................................... 05
> Leorio ....................................... 06
The Zaoldyeck Family .................. 07
The Freecss Family ...................... 09
Me and My Best Friend ................ 10
> Inuko Makoto ............................ 11
> Tammy-chan ............................. 12
Farewell Friends .......................... 13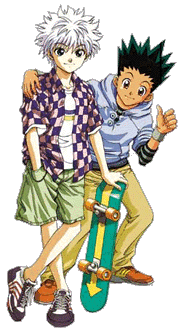 << GON >>
Name : Gon Freecss
B'day : May 5
Age : 12
H/W : 154/49
Bloodtype: B
Job : Hunter
Ability : Speed, Sense, Intellegence, Charm
Type of Nen : Kyouka
"Ore no Oyaji ga Hunter o yatterunda"
Gon is a simple and easygoing kid, well... it could be understood because he grew up in an isolated island, Kujiratou. Gon lived with his aunt, Mitoo, and make friends with the animals that's why he has talent in taming wild animals. I personally admire this kid, he's kind a kid who can get along with anyone. Even, Killua who is a cold-blooded assassin, became his best friend.
Gon used to believe that his parents were all deceased, but once upon a day he was accidentally saved by a guy named Carter, who's actually his father's acquaintance, Gon was told that his father is actually still alive. Carter gave him a double-hunter license card which used to belong to his father, and Gon believes that if he became a hunter, one day he will meet his father. Gon then started his journey becoming hunter to find his father, Ging, whose existence is indistinct.
During the hunter exam, he met with Leorio, Kurapica, and Killua. From the very beginning of the exam, he had shown remarkable talents that make people amazed. Gon often seen carrying a fishing rod, which was a legacy from his father. Although it seems to be useless but Gon can use his fishing rod very well, he can accurately swing and 'hook' it onto targets.