Welcome Friends! ........................ 01
Meet The Hunters ......................... 02
> Killua ........................................ 03
> Gon ........................................... 04
> Kurapica ................................... 05
> Leorio ....................................... 06
The Zaoldyeck Family .................. 07
The Freecss Family ...................... 09
Me and My Best Friend ................ 10
> Inuko Makoto ............................ 11
> Tammy-chan ............................. 12
Farewell Friends .......................... 13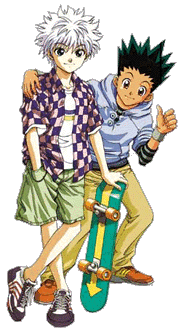 << KILLUA >>
Name : Killua Zaoldyeck
B'day : July 7
Age : 12
H/W : 158/45
Bloodtype: A
Job : Assassin (currently inactive and trying to be a hunter)
Ability : Durability, Speed, Mind, Killing Skill
Type of Nen : Enka
"Betsuni Hunter ni nanka naritakunaiyo"
Don't be deceived by his size, he may be a kid but he has the most gruesome killing skill in Zaoldyeck family. Killua appears to be just an ordinary teen who loves riding on his skateboard, cheeky, and carefree, but he can turn into a ruthless, violent, bloodthirsty assassin. He was born as one of the sons in the most infamous assassin family, the Zaoldyeck. It's not that he hates to be an assassin but he merely wanted a normal life as a boy and his deepest will is to have a friend.
Joining with the hunter exam was actually just a fad, because he get bored to stay at his home in Kukulu Mountain. Killua was never meant to be serious in becoming a hunter, but during the test he met with a boy who really attracted him namely Gon. Gon's true friendly and warm attitudes had removed his coldness and soon they became fast friends. Indeed, Killua and Gon shown a real deep friendship although they have so many differences.
A rebel who wasn't hesitate to harm his big brother and mother only to be able to runaway from his home. Killua uses no weapons at all, instead he can turn his nails into sharp razor claws at will and ripped out things in a split second.