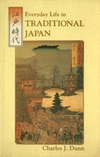 Publisher : Tuttle
Genre : History
ISBN : 0-8048-1384-1
Price : US $14.95 (plus tax)
Rank : DOPE!!!

my very first Japanese book and still my most fave one! i found this book exactly when i really need sources for my old bakufu project. this book talks a lot about the Japanese 5 castes (samurai, farmers, craftsmen, merchants, and artisans) also the daily life in old Edo. complete with beautiful photographs and drawings to visualize the traditional Japanese life.